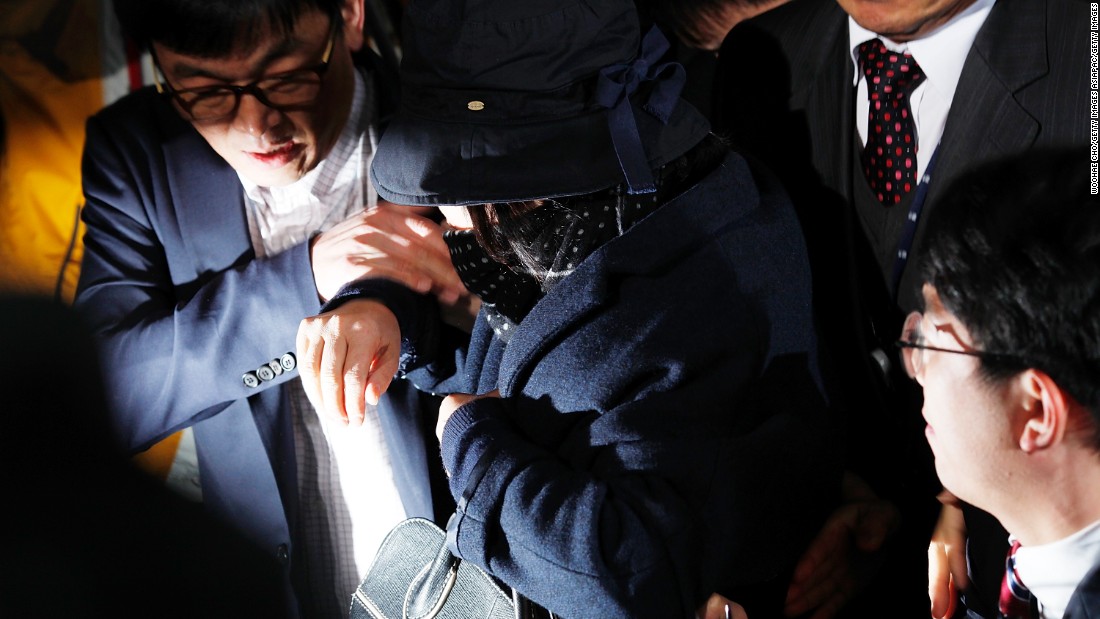 Seoul (CNN)The long-time confidante at the heart of calls for South Korea's president to step down was held by authorities after she dramatically returned to the country to face questions from prosecutors Monday.
Prosecutors placed Choi Soon-sil, who has been described as a Rasputin-like character, under "emergency detention" late Monday, Seoul Central District Prosecutors' Office tells CNN.
Choi is South Korean President Park Geun-hye's friend and an informal adviser whose access to confidential government documents has led to noisy demands for Park's ouster, with thousands taking to the streets last weekend demanding that she step down.
Resignations ordered
On Friday, Park Geun-hye ordered the resignation of 10 of her
senior secretaries
— aides who coordinate policy — as political turmoil continued to grip the country.
Park is expected to name new secretaries some time this week, according to local media.
But, Kang says, the problem doesn't appear to be solvable with a quick cabinet reshuffle.
"Can she rule, even if she gets rid of the cabinet? The cabinet wasn't the problem, she was the problem," he said.
Presidential apology
In a televised presidential apology, Park said Choi looked at "some documents" for a certain period of time after Park took office, but didn't specify what they were.
"I am shocked and my heart is breaking for causing public concern," Park said in the live telecast. "I've done so (shared the documents) out of pure heart so that I could carefully review (the documents)."
Abandoned computer
CNN South Korean affiliate JTBC broke the news of the scandal earlier this week after revealing that it had found an abandoned computer of Choi's containing evidence she received secret documents and intervened in state affairs.
Local media and opposition parties accused Choi of abusing her relationship with Park to force big local conglomerates to donate millions of dollars to two foundations they claim she had set up.
The South Korean prosecutor's office on Thursday established a "special investigation unit" to probe the cases.
Political fallout
Park, whose presidency ends in early 2018, had approval ratings between 30% to 50% during her first three years in office. This year, however, has been a bad one for the president.
A combination of a weak economy, inadequate public communications and poor administration of state affairs, according to multiple poll results, have resulted in slipping approval scores.
Park, South Korea's first female president, is the daughter of Park Chung-hee, South Korea's leader from 1961 to 1979, who was assassinated by his own intelligence chief. The late Park is hailed by some as the mastermind behind the country's current prosperity but criticized by others as a dictator who violated human rights by crushing dissenters.
Read more: http://www.cnn.com/2016/11/01/asia/south-korea-park-choi/index.html