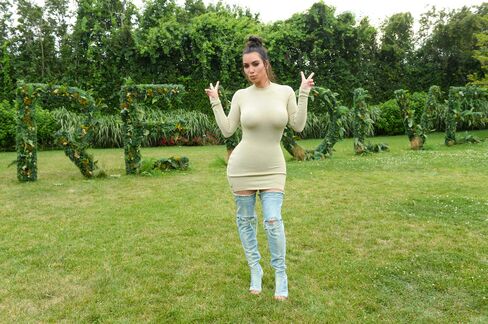 Kim Kardashian West strode through the doorway to greet the VIPs waiting in the living room and pose for selfies with some of fashions biggest social tastemakers at a mansion in the Hamptons. In a tight beige dress and thigh-high denim boots, the Keeping Up With the Kardashians star put her arm around one blogger, cocked her head to the side, and pursed her lips as a swarm of stylish onlookers outside pressed up against the glass doors.
Once shed quenched their selfie thirst, she headed outside to take more photos in front of a line of tall hedges trimmed to spell out the name of the partys host: Revolve.
Who better than the media-savvy Los Angeles native to promote a quintessential L.A. retailer? Revolves website sells an assortment of fashion labels with a West Coast aestheticbohemian blouses from Tularosa, jeans from Citizens of Humanity, statement jewelry from House of Harlow. California is famously casual, so daywear features floaty dresses and short skirts for lounging. By night, the glitz and sparkle comes out. New York City is subtle and structured; L.A. is loud and wild.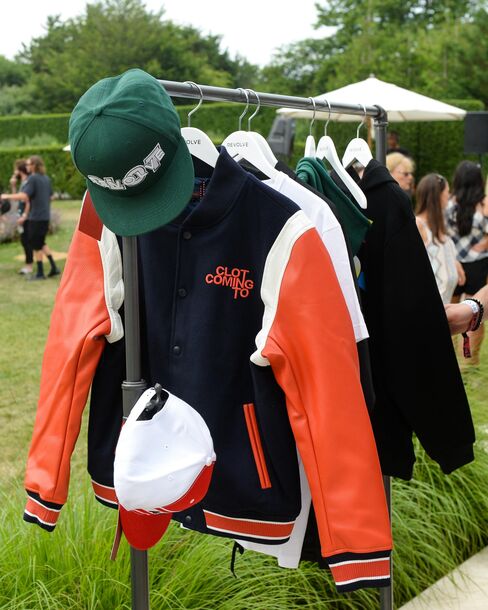 But Revolve was making a play for East Coast tastemakers by renting this house in the Hamptons for the season. Through a series of star-studded parties, the company was looking to reclaim the glory days of California style, when the Golden States laid-back clothes ruled casual dressing across the entire U.S., from Arizona to Maine.
During the mid-2000s, Juicy Coutures bedazzled tracksuits were a go-to for Hollywood stars and could be found everywhere, whether on an Ohio teen or New Jersey mom. The label even had a flagship on Manhattans famed Fifth Avenue shopping street. PacSuns more than 900 stores were thriving by selling surf T-shirts and board shorts in shopping malls. Hollisters SoCal logo tees dominated high schools as kids flocked to its bungalow-like stores. Lustful ads attracted the nation to American Apparels shirts and hoodies.
But then, disaster. American shoppers abandoned their Cali threads in favor of more urban East Coast style, trading denim for little black dresses and sandals for leather booties. Juicy shuttered all its U.S. stores in 2014, PacSun and American Apparel each filed for bankruptcy protection, and Hollister has shed more than $400 million in annual sales over the past four years.
Yet now, the pendulum is swinging back with the rise of the so-called athleisure trendclothes that can be worn both in the gym and on the street. Shoppers are prioritizing comfort, seeking out technical fabrics that have some sort of practical benefit, like stretchiness or the ability to wick moisture.
A growing group of fashion labels are looking to take California style national againbut this time, their outfits arent bedecked in rhinestones or covered in cheesy beach patterns. Instead, theres Wildfoxs flowing sweaters and ironic tees that vibe with nature, and Joies vintage-inspired creations. Jessie Kamms cropped sailor pants are perpetually sold out. Nasty Gal built a $100 million business exporting L.A.s penchant for nonbashful tops and party dresses with plunging necklines or skin-baring cutouts.
The clothes are pure California, but more sophisticated than ever. And Revolve plans to lead the charge.
Michael Mente, one of Revolves co-founders, had to weave through the pack of social media stars at the Hamptons party to get to Kardashian West. His guests munched on sliders, relaxed on pool floats, and downed glasses of Moet & Chandon Champagne. Some wandered over to a private tennis court to knock around a ball. Donning a Panama hat to go with his leaf-print shirt, Mente posed for photos alongside his host.
Before Kardashian West's appearance, Revolve trotted out Chrissy Teigen to preside over its Fourth of July bash. Hailey Baldwin had an exclusive fete of her own, too, and Nicole Richie celebrated a jewelry collaboration at the house. Anything to get the nation talking about West Coast clothes again.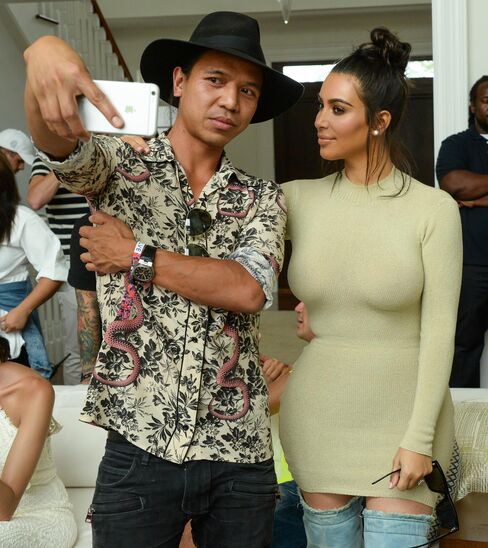 That was a perfect case study of how we can demonstrate our style, Mente said later. Its the real-life East Coast version in a real setting.
Mente and Kardashian West had both participated in the evolution of L.A. style over the past 15 years. Mente sold it, while his counterpart wore it.
Kardashian West grew up watching and wearing all the West Coast fashion trends as they came in and out of vogue; she was, in her words, the most clich trendy L.A. person on the planet. She said shed just bought her daughter, North, a full wardrobe of Juicy sweatsuits to rock, and still holds on to her own collection. I wore a pink Juicy shirt with a pink Juicy hoodie with pink Uggs to the knee, said Kardashian West. And I thought I was so cool. It was, like, everything, that outfit.
Juicy Couture defined an era of casual fashion, building a velour empire with nearly 100 stores that peaked in 2008 with $605 million in annual sales. At the time, there was nothing simpler for Revolve to sell than a tracksuit from Juicy or 2BFree. We just had to buy sweatshirts and pants with a couple colors and graphics, said Mente. It was so easy to sell.
Its more complicated these days. Revolve sells hundreds of different designers, most of whom vibe with the retailers casual inclinations. In 2015 it bought Alliance Apparel, which owned the labels Lovers + Friends, Tularosa, and NBD. Each brand designed for different sectors of the Revolve aestheticboho dresses, little bright rompers, or flashy nightlife attire.
Revolve expects to hit $600 million in sales in 2016, up from around $400 million last year, and will be profitable, according to Mente. Most of its business is online, but it also operates what it calls a social cluban event venue mashed up with a retail shopon Melrose Avenue that holds parties for It girls and celebrities.
Revolve isnt the only California company amping up cross-country activities. Jenni Kayne brought her refined cashmere looks to Southampton in the form of a pop-up shop. Juicy Couture is making a push under new management, relaunching its tracksuits in July at such upscale national department stores as Bloomingdales. Then theres Pam & Gela, a second act from Gela Nash-Taylor and Pamela Skaist-Levy, the women who unleashed Juicy upon the world.
We feel like we invented said Nash-Taylor, abruptly stopping herself mid-sentence. Its not that we invented California style. Its that we took California style to the world.
Pam & Gela is a grown-up version of their old label, said Nash-Taylor. Yes, the label sells comfy velour tracksuits, but in more toned-down colors and fewer sparkles. All California style, for that matter, seems to have become more refined. Nobody wears a bubblegum hoodie and matching sweatpants anymore; instead, theyre pairing embellished sweats with a vintage jacket. Gone are the days of revealing super low-rise sweats and jeans; the high waist with a stylish belt and tucked top is in.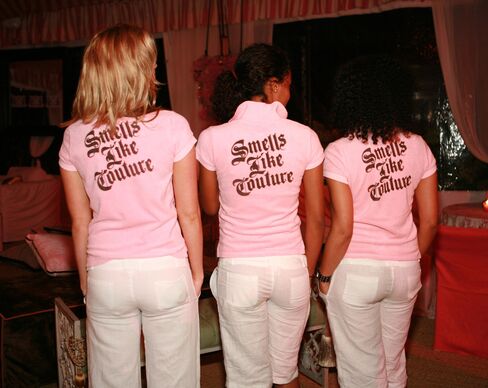 People started dressing down, and casual is a huge influence in design now, said Nash-Taylor. Whether its Celine or Vetementseven Chanel does sweatpants. Givenchy does sweatshirts. Indeed, even Donatella Versace ditched her usual sexed-up flair in favor of a gym-inspired collection in January. Vetements, the red-hot couture Paris label, walked an ode to Juicy down its runway with a glittery, body-hugging cherry look.
For Mente and Revolve, the new challenge is taking these trends and turning them into more growth. Once, California was the retailers main source of revenue. Now, in terms of monthly sales, its neck-and-neck between its home state and New York. Sure, on this balmy day in the Hamptons, L.A. clothes that show a lot of skin make sense, but there are still some puzzling contradictions to figure out.
How do we address our girl if shes living in New York and its wintertime? said Mente.
Read more: http://www.bloomberg.com//news/articles/2016-11-03/california-style-is-coming-for-your-closet